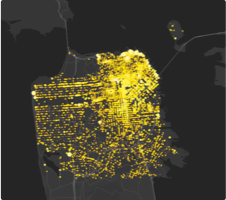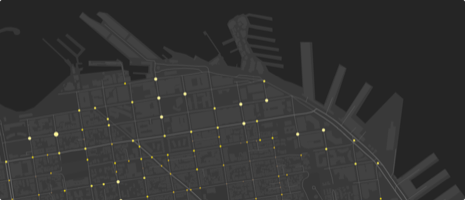 Mapping car break-ins in San Francisco
Over the last few years, car break-ins in San Francisco have reached record-breaking highs. Inspired by SF Chronicle's Car Break-In Tracker, we used XYZ Studio and the same public data set to display the locations of car break-ins across the city from 2018 to the present, using conditional rules and data editing to take the visualization to the next level.
Zoom out to the whole city and you'll get a clear picture of these crimes of opportunity; one of the biggest hotspots is the Great Highway, a stretch of road between Golden Gate Park and the Pacific Ocean that is a popular spot for beachgoers and surfers. Another hotspot is on the cusp of the city's famous Ghirardelli Square, a popular tourist attraction.
Source files and data can be accessed on GitHub.